Colour Sortex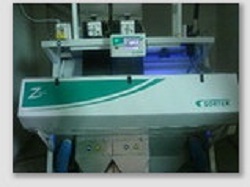 The final step in rice processing is color sorting. This is aimed at to remove discolored grains from processed rice to give the final product a uniform-color look.
IRM uses Sortex90004, provided by Sortex of London, that is the latest version in this highly acclaimed series of color sorters.
Color sorting is an intricate computer-controlled process where CCD technology is used for performing high-resolution-optical inspection of each and every kernel. It removes the high concentration of predominantly chalky and discolored kernels to give final product a uniform appearance.